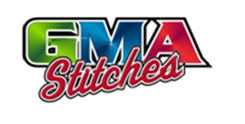 Welcome to GMA Stitches
We are an owner-operated company who specializes in trends for your embroidery and screen printing merchandise. With fast turn-around and prompt customer service, we can assist you to create the personalized look for yourself, your business, school, team, club, or organziation. You may bring in your own items that you already own for a company logo, monogram, or just something special.
Visit our location to see the full range of services, including the following highlights
- Custom embroidery digitizing service of custom logos
- Custom logos for screen printing apparel and accessories
- Custom uniform for sports teams, school clubs, and other organizations.
- Custom varsity letter jackets
- Bags, mugs, keychains, linens, holiday items, and MUCH more!
Contact us at (956) 725-8243 to see how we can help you reach your business needs.